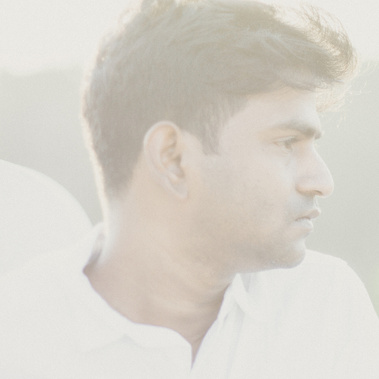 b.1986 Kanchipuram, India
Photographer. Works and lives in Chennai.
A large part of my school vacations were spent at my uncle's photo studio which became an inspiration for me to pursue photography. I got a point and shoot film camera from my uncle when I was sixteen which I always carried around to school picnics, cricket grounds, shooting my friends and everything around.
With photography, I want to record my everyday existence, of all encounters and journeys to create an expression of myself, of my life, of the world around.
CV

● Town Boy exhibited in the group show 'Growing like a Tree: Sent A Letter', curated by Bunu Dhungana and Sadia Marium Rupa. Curatorial Guide by Sohrab Hura at Sunaparanta Centre for the Arts. Goa 2022-2023
● Town Boy exhibited in the Rencontres d' Arles photo festival at France 2022
● Town Boy exhibited in the group show 'Growing Like A Tree: Static In The Air' curated by Sohrab Hura at Ishara Art Foundation, Dubai 2021
● Town Boy received Serendipity Arles Grant 2020
● Town Boy screened in Angkor Photo Festival 2020 curated by Sadia Marium Rupa
● Participated in Book Building Residency with Dayanita Singh at Goa 2019 & 2020
● Town Boy shortlisted in Burn Magazine Emerging Photographer Fund 2019, Invisible Photographer Asia Awards 2018
● Participated in Book Making Workshop with Valentina Abenavoli at Mettupalayam, India 2018
● Nominated for World Press Photo Joop Swart Masterclass 2018
● Home exhibited in Egaro Photo Festival at Agartala, India 2017
● Home screened in Angkor Photo Festival 2017 curated by Francoise Callier
● Home exhibited for the public by PondyPhoto at Pondicherry, India 2017
● Participated in Urban Water Workshop by Munem Wasif and Ravi Agarwal by Chennai Photo Biennale 2016
● Participated in Angkor Photo Workshop, Cambodia 2014
● Participated in Crafting a handmade photobook workshop with Kosuke Okahara at Chennai 2014
● Bachelor of Science in Visual Communication from University of Madras 2003-2006
Profile photo credit- Shankar